Tips: Be Secure In The Summer
Well, it's officially summer now, and Security Professionals has a few tips for the summer we have learned over the years: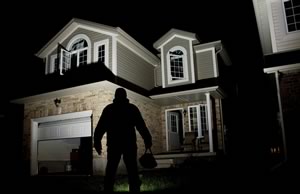 Often there is an increase in residential burglary and theft in the warm weather months. At times, we leave our windows open for ventilation when we are not home. In a vast number of summertime burglaries, the burglar gains entry through an opened or unlocked door or window. We also see an increase in theft of personal property, because there is a tendency to leave items, such as bicycles, unattended at parks.
Most of these thefts can be prevented just by giving things a second thought, rather than just "leaving them for a second."
Home Security:
When you are away from home, close and lock your doors and windows. If you want to leave windows open enough for ventilation, but not wide enough for someone to gain entry, use a dowel for sliding glass windows cut to allow the window to open no more than 4î. For double hung windows, consider sash pins. Some windows have stops installed on the inside track, which will also prevent the window from being opened to far.
Yard maintenance:
Don't make it easy for the burglar! Make sure even if you are just running for a quick trip or working outside that you don't leave your doors unlocked or visibly opened. When working in the yard in the back of the home, do not leave the front door open and/or unlocked. If you have a garage or storage unit that is out of your line of sight while you are working in the yard, be mindful of what are you showing in plain view to anyone who may be walking or driving by.
Gardening tools, lawnmowers, other yard tools, ladders all tend to be stolen more in warm weather months. Make sure you lock them up in the garage, shed, etc.
Heat In Cars:
Remember to NEVER leave pets or children unattended in a hot vehicle with the windows rolled up. If you leave your car, roll the windows down enough for ventilation and provide a dish of water.
Summer security sales blitzes:
Many out-of-state security alarm dealers use the summer months to hire college students to "blitz" neighborhoods and offer home security installations.  Usually the truck and crew are just down the street waiting for the OK.  Or even worse, they "train" these cold-callers to install the system themselves!
Most areas require a low-voltage electrical contractor, such as Security Professionals, to have a contractors license and obtain a permit for the installation.  We monitor out accounts locally, and provide 24-hour service.  And our existing customers can earn free monitoring credits for referring us.  In fact, most of our business comes from referrals.  If your friends, neighbors or relatives are considering having a security system installed, please ask them to call us for a no-cost, no obligation pressure free consultation at their convenience, and then decide what's best.  We" be here when they needs us.
Our Oregon and Washington license numbers are on our website, and please call us with any questions or concerns.
Thom Livengood