Security Camera Systems &
Video Surveillance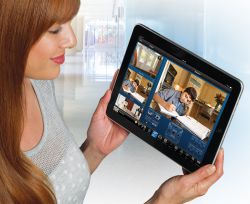 Video surveillance has been a popular security tool for years. And thanks to new breakthroughs in technology, security cameras are more effective than ever before. Banks, retail stores, and countless other end-users (including Home Owners) depend on the protection provided by video surveillance.
While analog CCTV systems were once the norm, they provide limited features and can't integrate easily with other electronic security systems.  Fortunately, advances in digital technology have made video surveillance systems far more cost-effective, flexible, and simple to operate.
Security systems use IP (Internet Protocol) cameras are easy to install and maintain, and can be customized and scaled to perfectly match your specific needs.
Security Professionals installs and services major manufacturers of video surveillance equipment:
Honeywell
Bosch
Pelco
Vitek
Avigilon
Speco
Our systems use an open-architecture platform that allows your system to grow and evolve with technology, and decrease the life time cost of owning a video surveillance system.  Using a Digital Video Recorder (DVR) helps bridge the gap between analog and IP and DVRs make expanding you recording capacity very easy!  PLUS, with our system you'll have access to your video from your iPhone, Android or Blackberry cell phones.
We use network cable for new installations, which "future-proofs" your investment.
Interface your cash register POS output to your video and search for transactions
Higher-resolution analog cameras rival megapixel, but we use megapixel cameras where the very best video is required
New options make license-plate capture affordable
Security Professionals services equipment installed by others
Watch the video below to see how Honeywell TOTAL CONNECT can be used with your home or business security system.